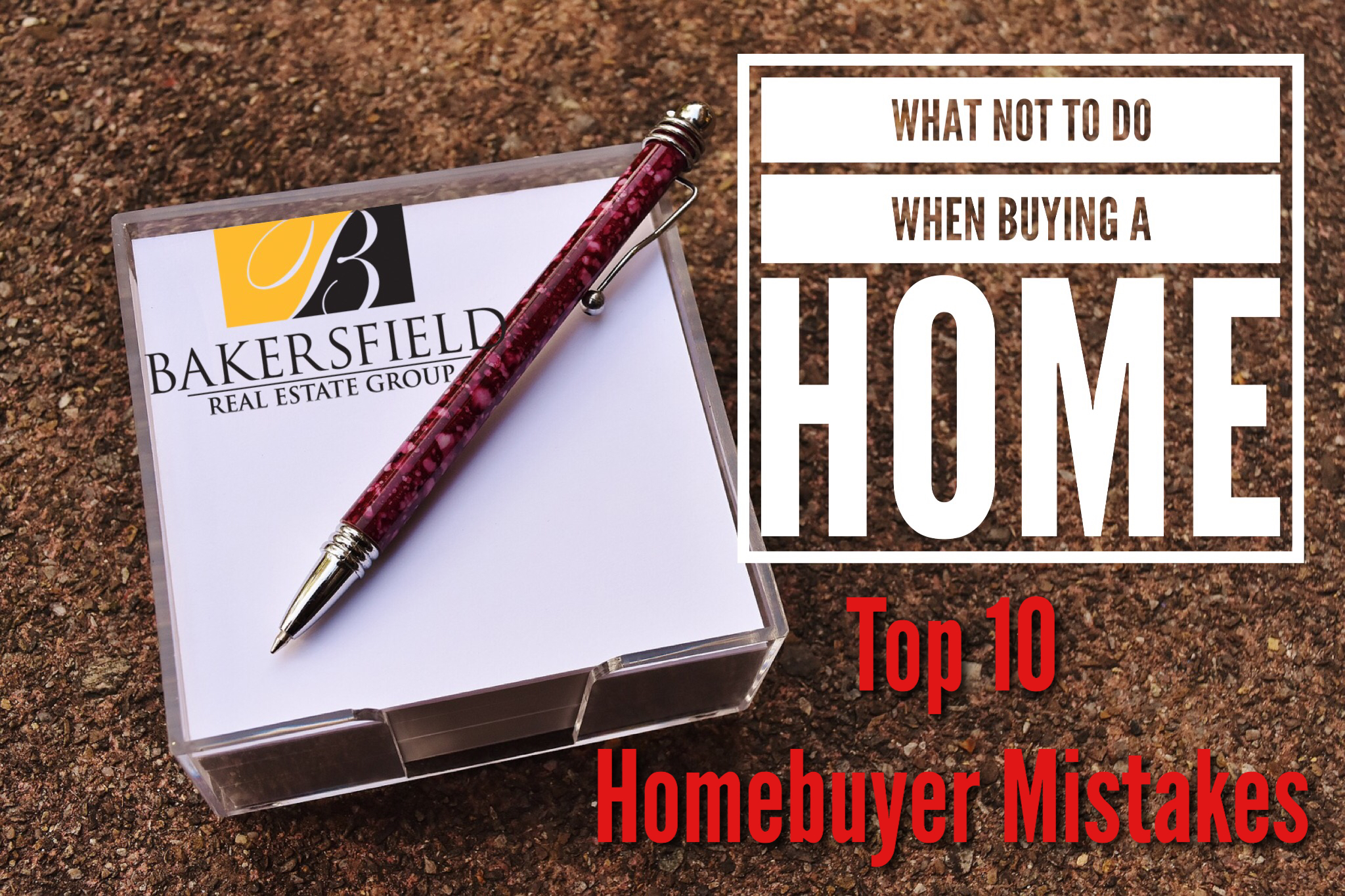 We realize that many home buyers are going at it for the very first time and have no clue or direction on what to do and not to do. Or maybe you have purchased before and have no memory of the process. We have helped hundreds if not thousands of home-buyers and we have seen our share of mistakes while in the middle of an escrow. This is why we have made it our mission to try to educate as many future home buyers as we can! Hopefully you find these tips helpful and we can save your next purchase.
Top 10 Homebuyer Mistakes
1. Don't apply for new credit. This can bring your score down and if you are already borderline qualified, it can cause you to become unqualified and therefore cause your purchase to fall out. This can also cause your interest rate to increase since your rate is based on your credit score.
2. Don't miss any payments. Again, missing a payment can lead to creditors reporting this activity and causing a negative reflection on your credit score. Remember, the lower your credit score, the higher your payment.
3. Don't change jobs. Lenders have to follow very strict guidelines when qualifying you for a home and if you switch job types, the chances of you qualfying for your home, might be in jeopardy.
4. Don't make any large purchases. You must wait until after your home closes to make your large purchases.. Be patient. It will be ok, if you buy that fridge or sofa set after the houses closes. What use is that new couch if you have no house to move into?
5. Don't use credit cards excessively or make large purchases. Freeze up those credit cards until after you close escrow. We always tell people " Stay out of the big stores!"

6. Don't spend your closing money. Even if you think you are coming into money from somewhere or borrowing it. If you have the money set aside for your Down Payment or Closing Cost, leave it in the bank until the lender tells you to take in your money for closing.

7. Don't leave out any debts when applying for a home loan. The lender will need to know what your debts are in order to determine what you qualify for.

8. Don't make large or unusual deposits over $500. The lender will want to track all of your money and you will need to discuss the deposits before you make them. Tell the lender everything. We have had some clients that Sell Candles and other Multi Level Marketing on the side of their main job and have had to hold off on making deposits until their house closes.
9. Don't change bank accounts. Did you know that your money has to season for a certain period of time? If you switch bank accounts in the middle of your escrow and move your money, the seasoned period starts over. Just don't do it!
10. Don't co-sign for anyone. This causes two things to happen. One Your credit will be ran and Two, your debt to income ratio will go up. This will negatively impact your purchase.
These are also great rules to follow even if you haven't started your Home Buying Journey. If you are ready to start your journey to home ownership, let us help guide you. Call today 661.303.5401 or email us!

Want a List of Home? Click Here
Need to Sell a Home to Buy? Click Here
Want to get Qualified for a Home Loan? Click Here
Get to know the Team! Click Here
Who is Linda Banales? Click Here
MORE Home Buyer Tips!

Follow us on Facebook for our latest listings and Home Buyer & Seller Tips! Facebook
Not on Facebook? Follow us on Instagram @Bakersfieldrealestategroup

Linda Banales
Broker Lic 01172638
Bakersfield Real Estate Group
Agentcor Realty Bakersfield
5601 Truxtun Ave #150
Bakersfield, CA 93309
661-704-4244
Email Us