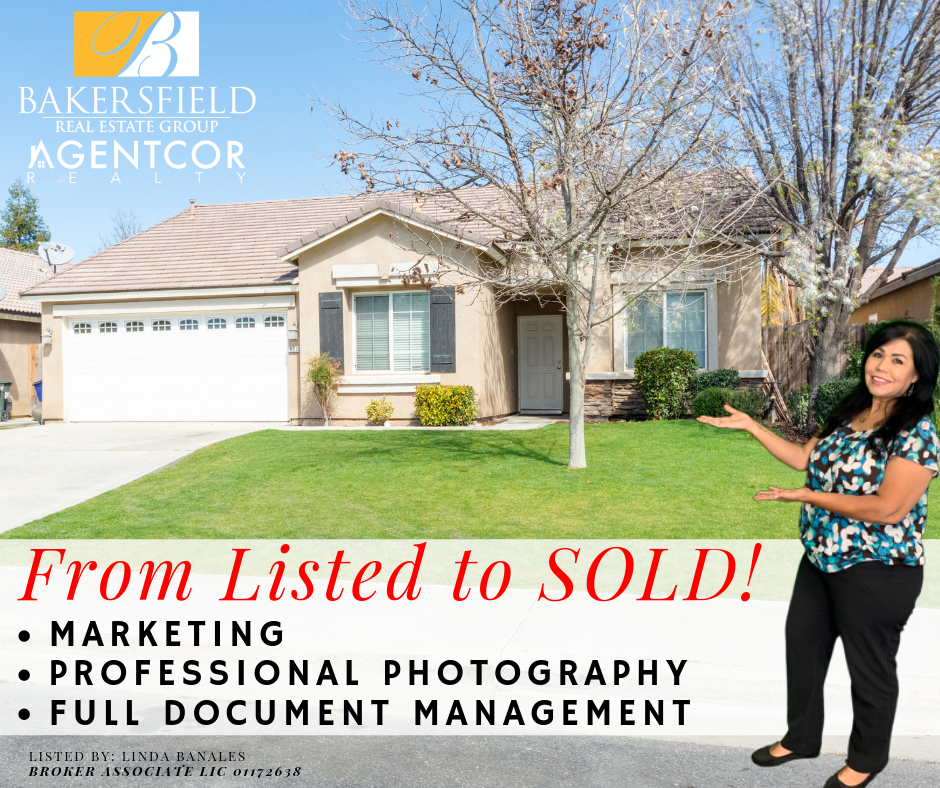 Thinking of Selling your Home or Investment Property here in Bakersfield? Click Here to Obtain your FREE Home Value! Keep in mind that I'm not the one that decides how much your home is worth -- the market decides! The market tells us exactly where to price your property to sell and how to approach the marketing of your property. Here are the five factors will affect the value in today's market. Price, Location, Condition, Competition and Timing. If any one of these are off it will impact your value.
If you have any questions regarding the process, please don't hesitate to call me. I would Love the opportunity to have a face to face meeting with you and to help you market and sell your home. I look forward to hearing from you! --> 661.303.5401 <--
Remember..We LOVE Referrals! Please send them our way!

It's a Sellers Market. 😱🏡✅Inventory is low! Home Sellers are getting 97% to 100% 💰 and more of their asking price. 📊 If you could get what you want for your home would you sell it? 💵 We have qualified buyers waiting for a home just like yours! 📜Call 661-704-4244 For a FREE Home Value Report click on link
http://bit.ly/bakersfieldHomeValue
As Always, if you are in the Market to Sell your Home here in Bakersfield, CA, Give us a call! 661-704-4244
Find yourself asking the Following: How much is my home worth? What can my home sell for? Can I sell my Home and Buyer another at the Same Time? Reach out! We would love to help! No Obligation! Just Free Helpful advice!
When you meet with our Team to get your home listed for sale we will address all of these points and determine the steps to take to get your home List Ready! Here are a few more Blogs that you should check out! If you are reading this Blog you are already starting the Home Selling Process!
How Much can I sell my Bakersfield House For?
5 Ways to Tell How Your Home Stacks Up Against Others!

Don't Leave Your Home Sale to Chance

SIX Steps to Selling Your Home

DO Judge a House by Its Picture!
The ULTIMATE Guide To Selling Your Home!
How To Get Buyers to Pull the Trigger!
Our team has over 40 years of combined real estate experience with Home Buyers and Sellers Here in Bakersfield. We have sold over 1200 Homes and if there is anything our experience has shown us, it is that not all real estate agents are created equal. Too many agents rely on the 3 "P" Marketing Plan of Putting your home on the MLS, Putting a sign in the yard, and Praying that it sells. You Deserve More Than That! We use our exclusive 76-Point Marketing Plan to get you can take to the bank.
If you would like to receive a Complimentary Home Evaluation, don't hesitate to Email or Call today. We are here to help!

Linda Banales
Broker of Agentcor Realty Bakersfield
Ceo of Bakersfield Real Estate Group
661-704-4244
Follow us on Facebook
Follow us on Instagram @bakersfieldrealestategroup
Linda Banales Broker of Agentcor
Full Bio
Looking for a local Bakersfield Real Estate Blog? Click Here to stay up to date with the local market and find out if now is a good time to buy or sell Real Estate.

Selling a Home in Bakersfield and need an Agent that understands the full picture of what goes into Selling a Home? Click on Selling a Home
Bakersfield Real Estate Group

Broker/REALTOR

Agentcor Realty

6613035401

Licensed In: Ca

License #: 01172638

Contact Us

---

You Can Also Visit Us At: